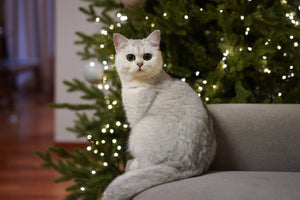 Are you looking for the purr-fect gift? Look no further; at Cats Where It's At, we have unique gifts for cat lovers. We like to think we are like the cats we love—sweet, cute, and yeah, a little goofy. We love to find products that are the same: sweet, cute, and a little goofy! Find unique gifts for cat lovers, including cat decor, cat t-shirts, cat accessories for people, including cat themed jewelry and cat pins. We have cats clothing for women and cat decor for home. You can also find cat clothes for men, not just crazy cat ladies! You can even grow your own catnip or cat grass! Of course. we also have things for cats, like bandanas for cats and bowties for cats! Choose from from our links above, or click
here
to see our entire collection. At Cats Where It's At, we have the best gifts for cat lovers. Shop for cat-themed gifts online today!
Join our mailing list.
Click
here
to join our mailing list. We'll keep you updated on new releases, sales and send you a coupon you can use right away to save 10%! We are only set up now to ship within the continental United States, so if you are in the U.S., sign up today!